City Heart Taskforce & REIMAGINE Gold Coast
Reimagine Gold Coast Jobs, Skills and Industry Insights Reports 2021 and 2020. FREE DOWNLOADS.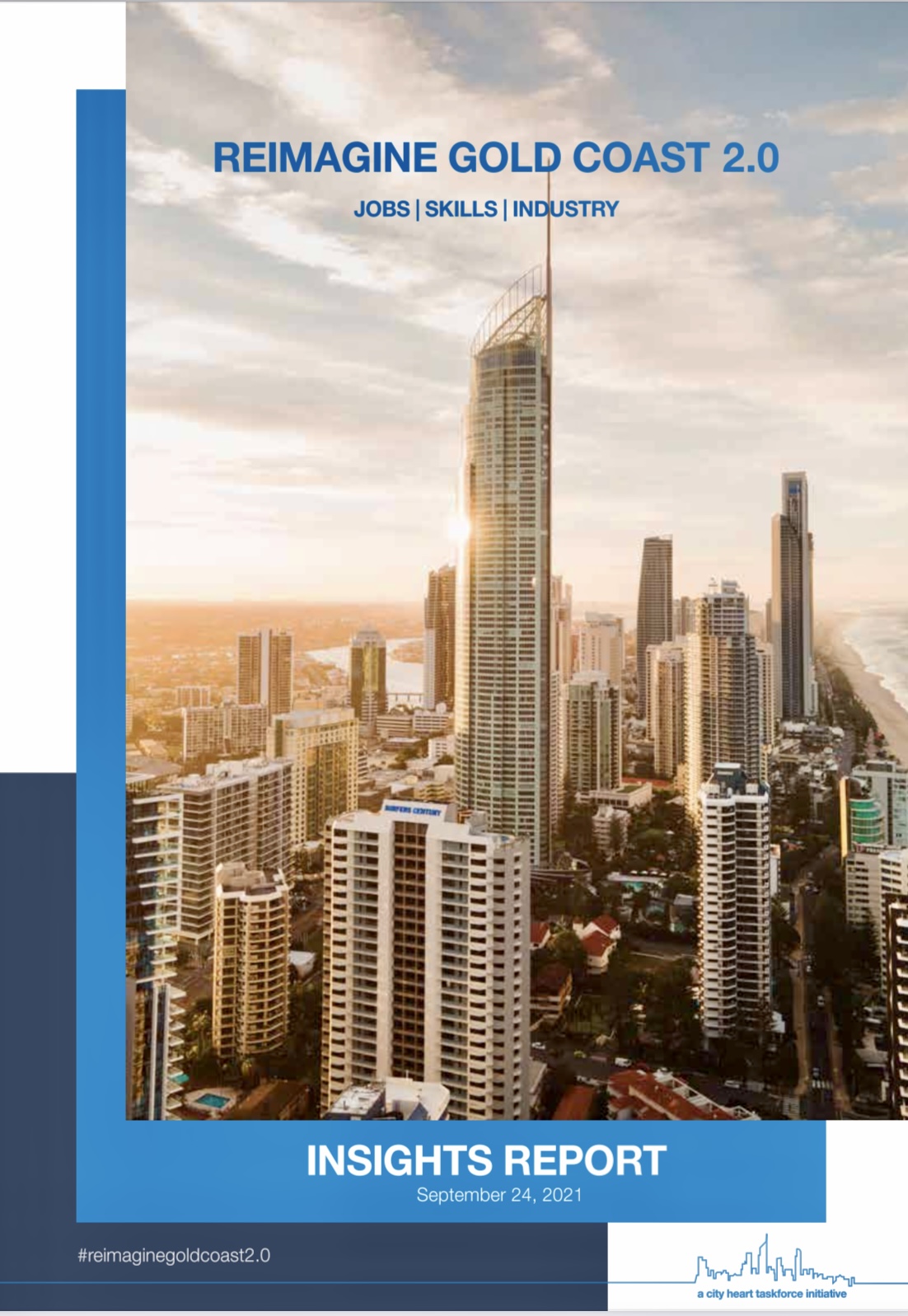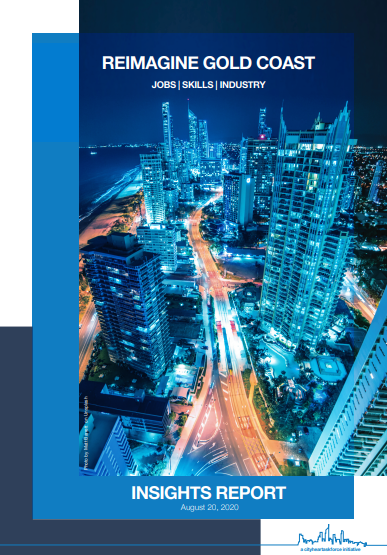 ABOUT THE CITY HEART TASKFORCE (CHT)
The CHT was established in May 2020 by Angie Bell MP, the Federal Member for Moncrieff.  It was convened as the only cross-industry think tank on the Gold Coast bringing together leaders from across key sectors of small business, tourism, education, the night economy, construction, health and knowledge, manufacturing, arts and sport to work collectively to develop a cohesive framework with outcome focused strategies to hasten our recovery from the COVID-19 pandemic, create job opportunities and rebuild our 'city heart'.
The CHT is committed to a cross-disciplinary and localised approach to meet the challenges and take advantage of evolving opportunities. It enables one collective voice to government and community with a well-enunciated message on behalf of our industry sectors and individual associations.
It has drawn on the wide range of research related to the central Gold Coast and industry and is leading cross-industry collaboration through initiatives such as REIMAGINE 2020 Gold Coast Jobs, Skills and Industry forum and REIMAGINE 2.0, 2021  to promote new ways of thinking, acting, and interacting to underpin jobs, skills and industry across the region.
There are a variety of committees with city, regional and state stakeholders, and so it is critical that sector information and resources are shared in terms of planning and strategic thinking. This ensures all industries can understand the new situation and consequences. New pathways and processes are being implemented to work cohesively towards an integrated industry recovery approach.
Key objectives 
Identify key projects or issues that require CHT attention or advocacy
Provide a cohesive cross-industry voice for key and emerging pillars to government
Keep lead industries appraised of new federal government policy and programs that can be disseminated to the industry sector
Act as a conduit for federal government jobs and program delivery directly to small business
Support industry sectors to create a new jobs landscape
Provide members with a communication channel to government
Share good news stories across the region
Work as a collective to reshape the future of our city's engine room
CHT Executive Members led by Angie Bell at Reimagine Gold Coast, GCCEC.
REIMAGINE 2.0, 2021
REIMAGINE 2.0 Gold Coast Jobs, Skills and Industry Forum – A City Heart Taskforce led initiative, September 2021.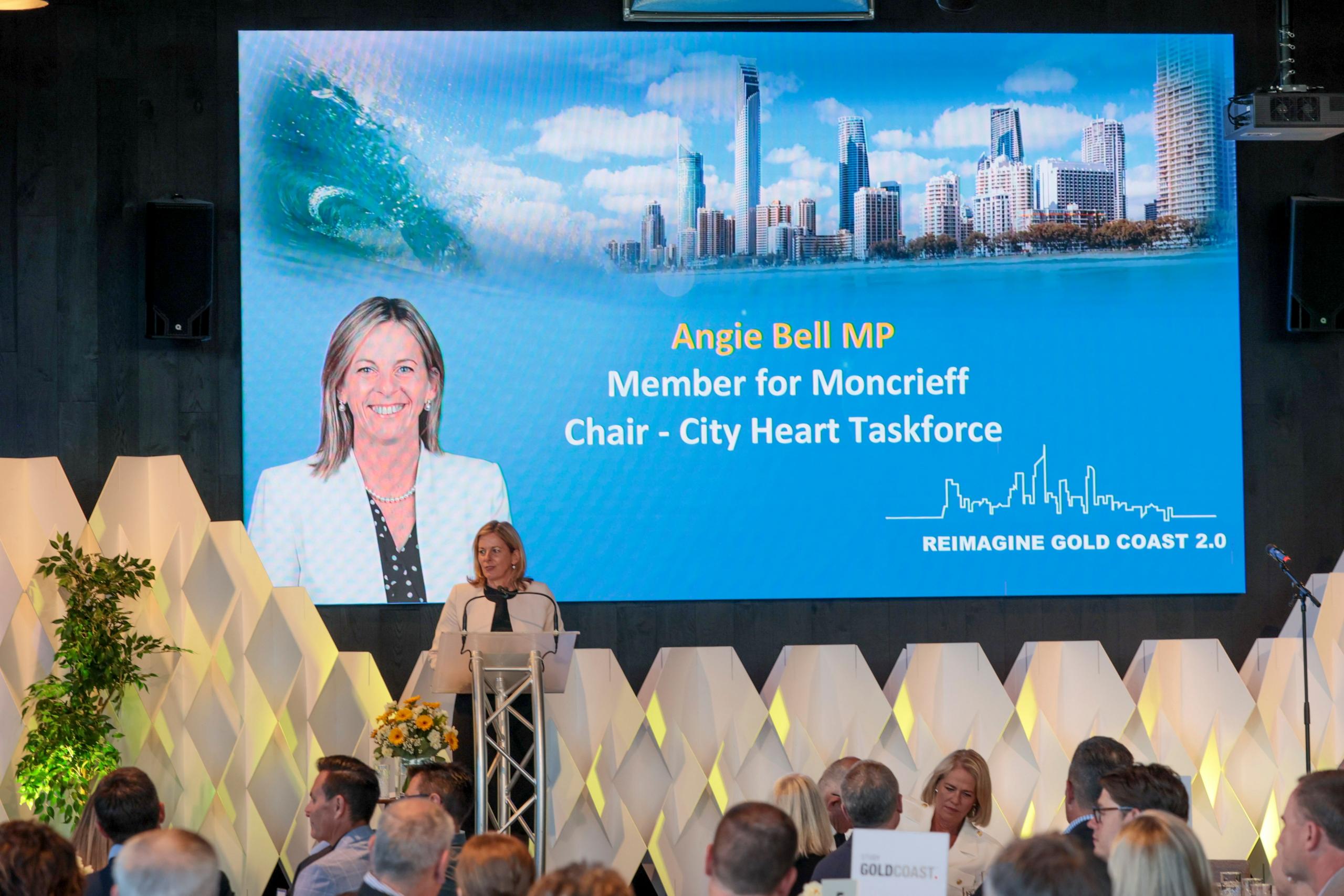 The City Heart Taskforce (CHT) convened and chaired by Angie Bell MP, Federal Member for Moncrieff, met with industry leaders on Friday at REIMAGINE 2.0, Jobs, Skills and Industry Forum. The Gold Coast's only cross-industry think tank met to reignite, reimagine and develop targeted outcomes with a key focus on jobs, skills, industry and talent for the Gold Coast's future economy.
The key themes were:
Opportunity- Population growth and emerging sectors or reworked business models, and the 2032 Olympics
Innovation- How sectors can diversify and activate to survive and prosper in their sectors during this period or uncertainty
Talent- A key factor in our long term recovery and future growth
This forum is a platform for city industry leaders to connect, create and collaborate, through sharing knowledge about innovation, implementation, and service delivery with key emphasis on jobs, skills, talent, economic diversification and investment attraction.
The forum component featured keynote plenary presentations and a themed industry breakout session for key industry leaders and business representatives to initiate the discussion of issues and provocative ideas with a focus on targeted outcomes.
Download  2021 REIMAGINE 2.0 Insights Report here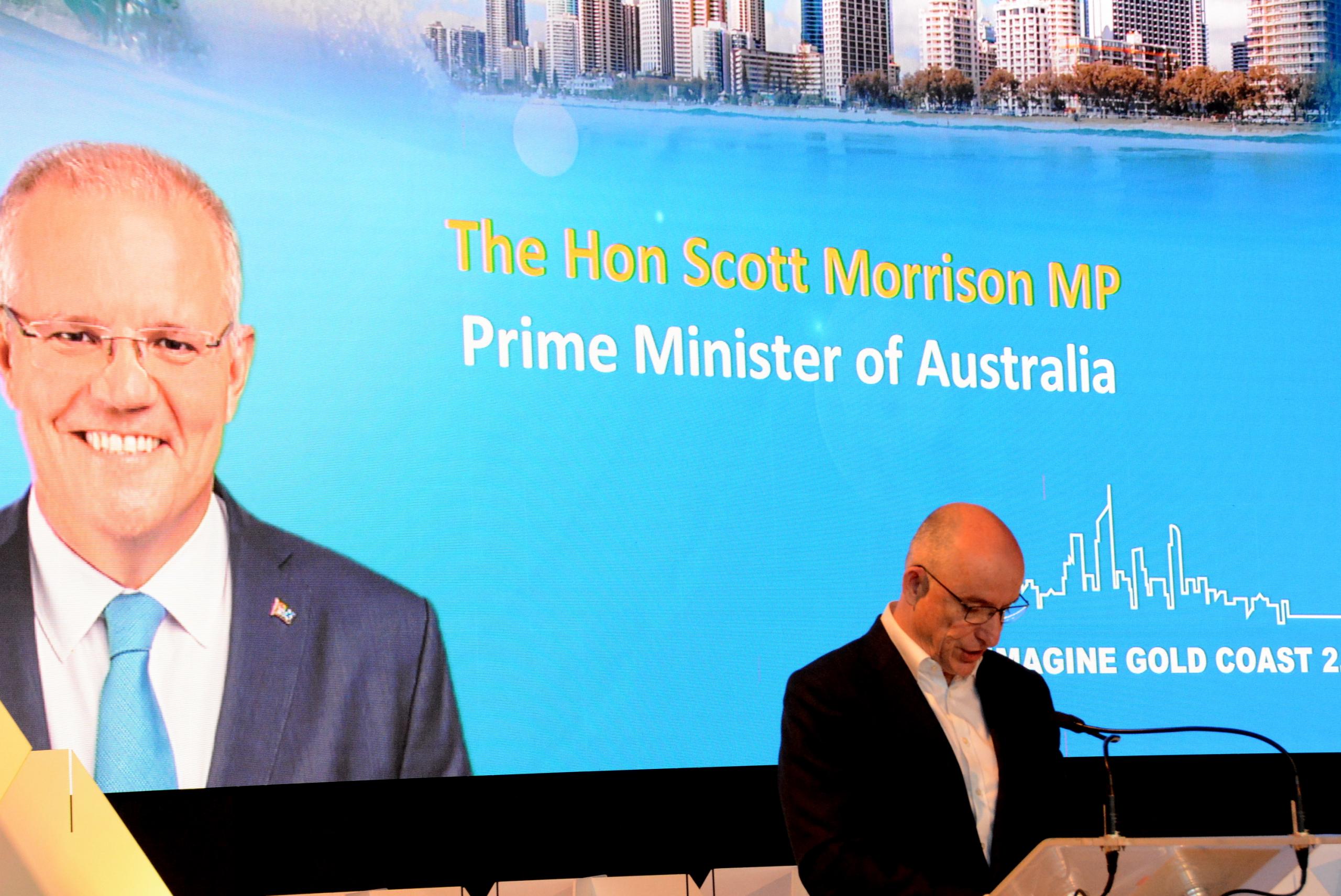 A message to the REIMAGINE 2.0 Gold Coast Jobs, Skills and Industry forum from the Prime Minister of Australia, The Hon Scott Morrison MP, was read out by The Hon Stuart Robert MP, Minister for Employment, Workforce, Skills, Small and Family Business.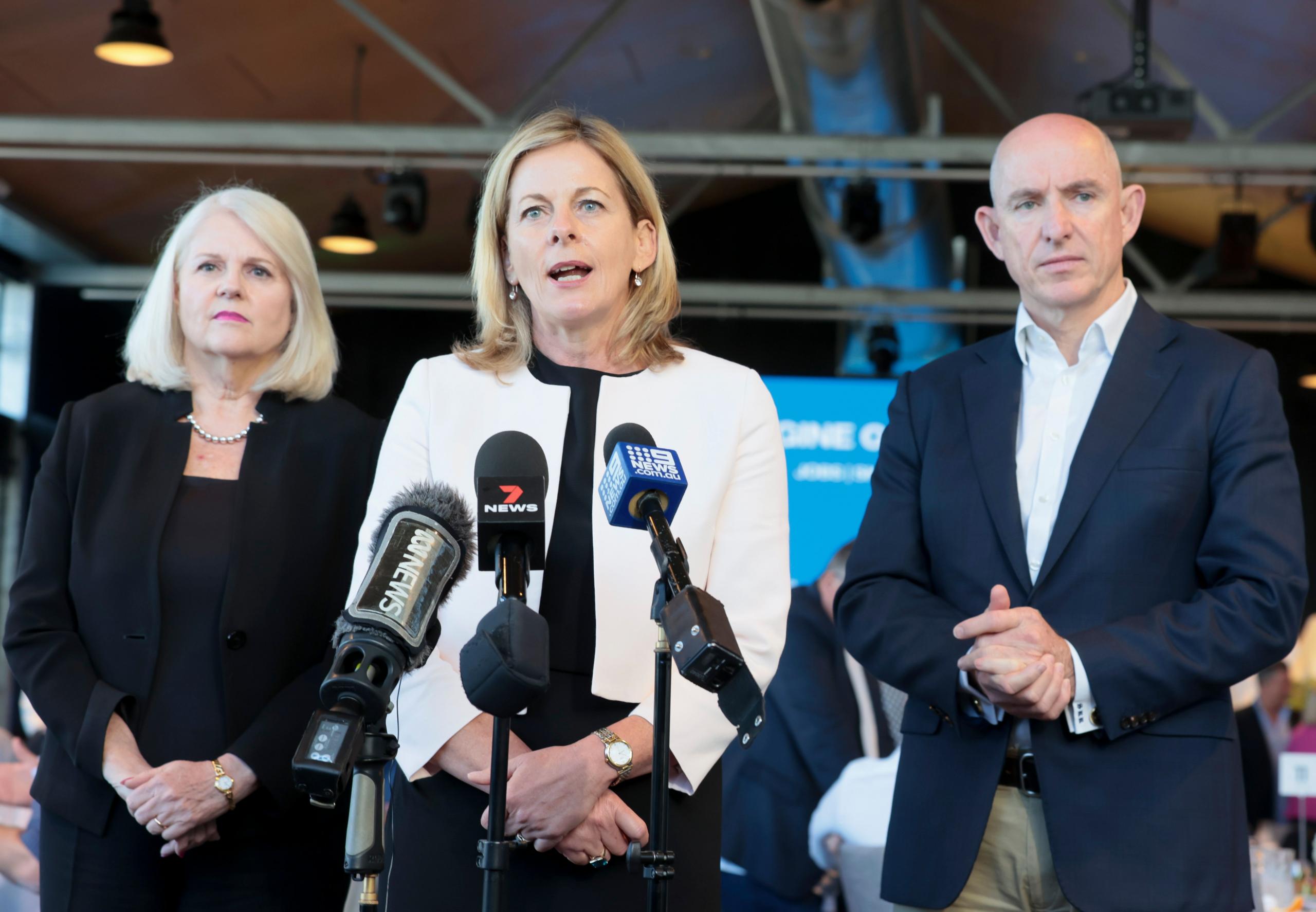 Minister for Home Affairs The Hon Karen Andrews MP, Member for Moncrieff Angie Bell MP and Minister for Employment, Workforce, Skills, Small and Family Business The Hon Stuart Robert MP at the REIMAGINE press conference.
REIMAGINE 2020
A City Heart Taskforce led initiative, the REIMAGINE Gold Coast 2020 forum (a COVIDSafe event), was held on August 20, 2020 at the Gold Coast Convention and Exhibition Centre, convening over 100 of the city's leading business minds.
The forum has proven a pivotal step forward as we reignite our economy, rebuild our workforce and reimagine our future employment landscape. The remit of REIMAGINE Gold Coast 2020 is to deliver outcomes charted during the key industry pillar sessions. In the Insights Report, the last four pages outline a number of actions and outcomes already delivered since the forum.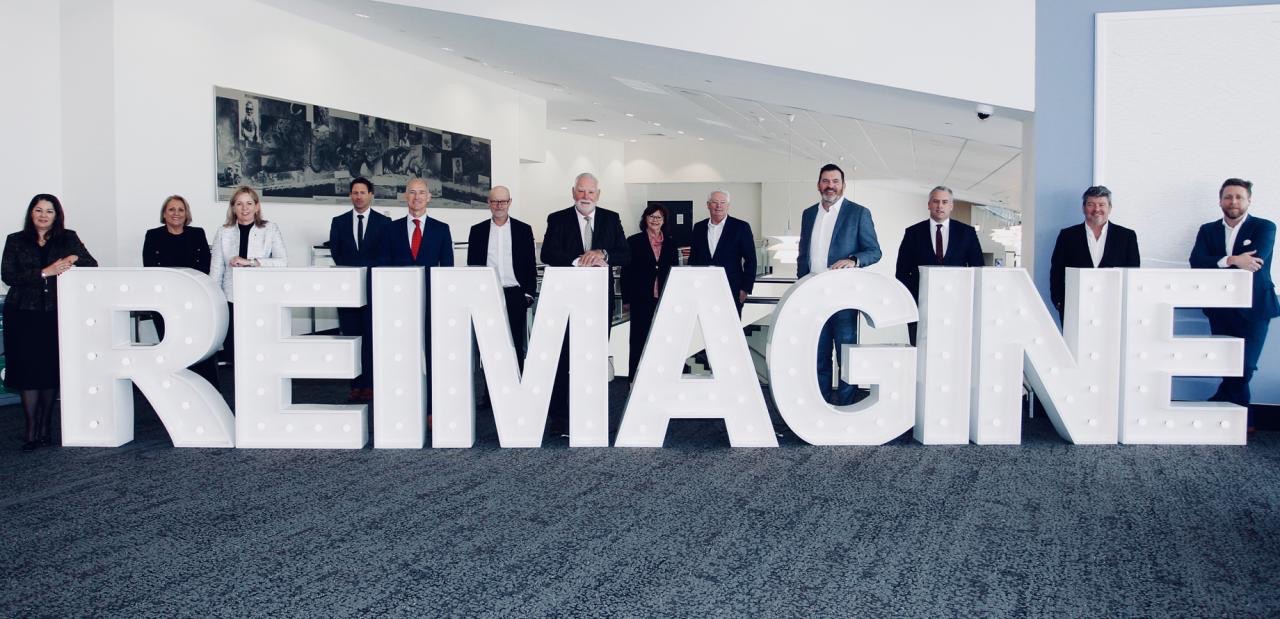 CHT Executive Members collaborated across 11 key industries on the Gold Coast at the GCCEC in Broadbeach.
Download REIMAGINE 2020 Gold Coast Insights Report here.
The Federal Government has announced several initiatives since REIMAGINE Gold Coast 2020, including: