Prime Minister in Molendinar to Announce $400m for Movies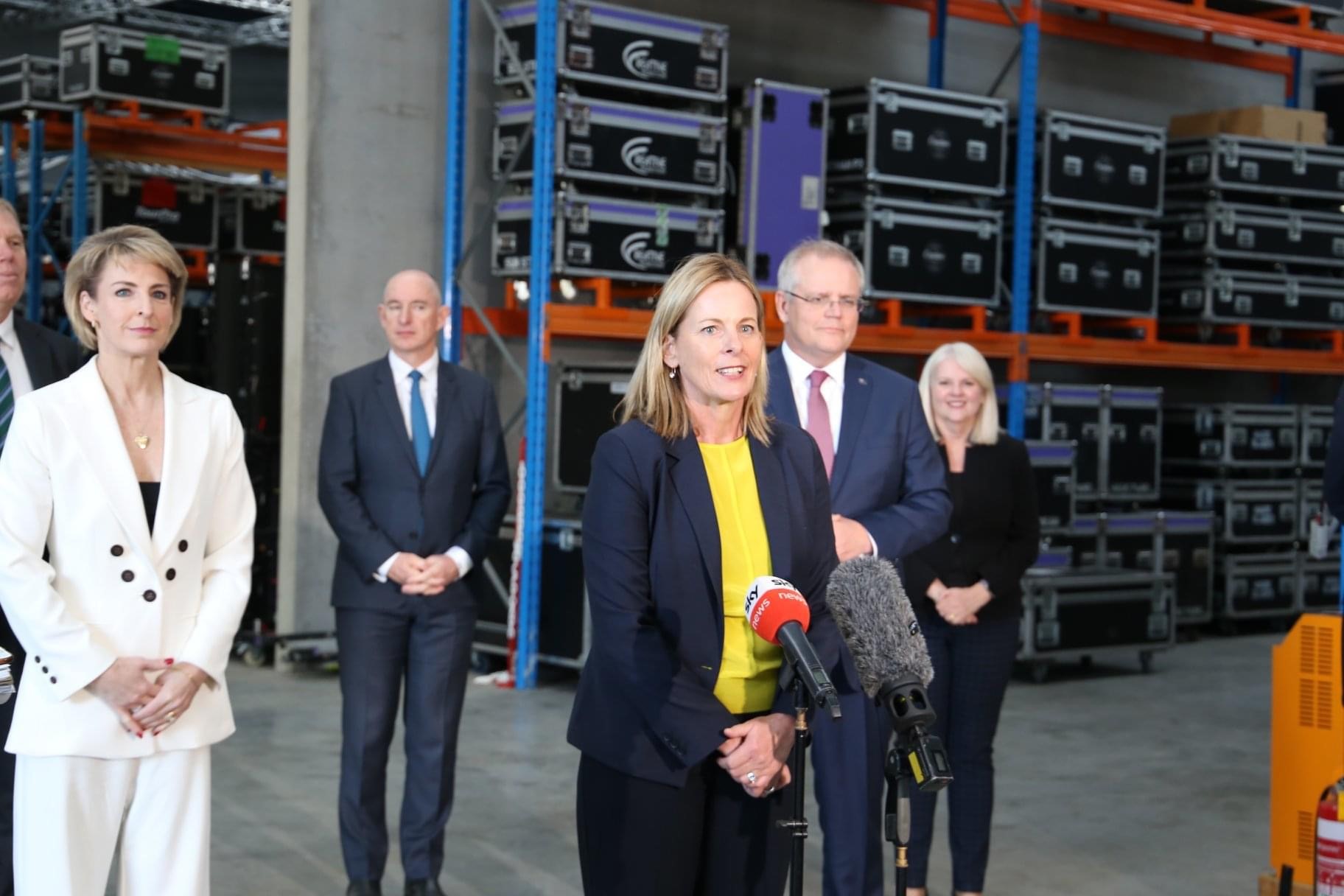 ANGIE BELL MP, MEMBER FOR MONCRIEFF:   I'm absolutely thrilled to be here today in the beating heart of the Gold Coast, that is Creative Productions here in Molendinar, the owner, a local small business Dave Jackson, is, at his business here today to make a great announcement and I welcome with great gusto our Prime Minister to Moncrieff and also my Gold Coast colleagues and Minister Michaelia Cash also for this announcement today to support local jobs and to support local business in the movie industry so with no further ado I'll introduce our Prime Minister, welcome to Moncrieff.
PRIME MINISTER SCOTT MORRISON: Thank you Angie, thank you Angie it's great to be here, it's great to be back in Queensland, it's been a while since a Sydneysider had been able to be in Queensland so, I know many are enjoying that opportunity and it's great to be here on the Gold Coast, it's certainly warmer than it was in Canberra earlier this morning, and I know many southerners are enjoying that as well. Sadly, our friends in Victoria are unable to do that, particularly at this time. But before I say much more. Let me just open by saying it's six years since MH17 was felled and shot down. 38 Australians perished, were killed, in that attack. Some 298 souls were lost. And it is still a tragedy that continues to affect us all, and in all of the many meetings I've had with Prime Minister Rutte from, the Dutch Prime Minister, we have spoken about this constantly as we continue to seek justice for those Australian lives that were lost and were taken from us. And we are as outraged about it today as we were many years ago, and we will continue to fight for their families and all of their loved ones in remembrance of those who were lost.
But the reason for being here today is a much more positive one, and that is because we're about jobs. Our JobMaker plan is about ensuring that we have jobs right across Australia. And whether that is in the home building industry, whether that is in any parts of the hospitality; the tourism sector; the entertainment sector, where we announced some $250 million of support to get shows back on the road recently. We are about creating jobs and a big part of the jobs that we can create, which we've known, has been in the film and screen industry. So much of which is represented here on the Gold Coast. I've been here on many occasions, particularly with Cowboy Dave who I got to meet on the first occasion when I was here with Bert, and we made announcements about our support for the film industry. And every investment we have made as a Government in the film industry here and right across the country has been a good one. It's produced the results we had hoped for. It has produced the jobs. And jobs and everything from sanitation to water supplies; to sparkies to traidies; to actors; to special effects; and particularly Dave's business here. Our other Dave here today in the lighting industry and the technology side of this incredible business, with so much more of that business going down that path.
It creates jobs. And today we're extending and putting a seven year programme in place to the tune of $400 million to ensure that we can attract those big films and productions and screen events for them to be produced right here in Australia. Earlier today I was able to meet with Baz Luhrmann over at the Village Roadshow studios where they're filming Elvis, and was so encouraged by Baz's great passion for Australia, which is well known, and great passion for the Australian film industry. But I'll tell you what he's even more passionate about, I think, is he's so proud of the jobs that he creates in the productions that he puts here in Australia, and is so passionate about the further jobs that are going to come. Already since making this announcement this morning, we've heard from Screen Australia, some, Jerry Bruckheimer's outfit and Ron Howard's outfit have already reached out to Australia, on the basis of the announcement we have made today. There is serious interest in basing films here in Australia. We've already got Disney making films here; and we've got the Marvel syndicate; we've got Paramount Studios. All these big studios know our potential and capability here in Australia, and they've known it for many years. But they also know that this is a safe place to make a film. This is an industry that can be drawn on here in Australia to produce world-class productions. And whether it's Hollywood or Bollywood, or wherever they're coming from, they know they can come here and make the films that will create great success, that will generate the jobs. Whether it's from making coffees or, the quite sophisticated work which is done on prefabrication of sets, the film industry, reaches into so many different sectors. And people who work in the sector also work in other industries, particularly here around the Gold Coast, and so this is an investment in jobs. 8,000 jobs every year, every year supported by this investment alone. And that, combined with the many other supports that are provided, will mean that our film industry, our screen industry will be a key part of our COVID recovery.
There is a COVID recovery. We saw yesterday with the jobs numbers and Minister Cash will talk more about that. 210,000 jobs came back in June. They came back in June. The effective rate of unemployment fell from over 13 per cent, just down to just over 11 per cent. And we're seeing when we can open up our economy and get things moving again, then we see the jobs come back, and that gives us all hope. And particularly for those down in Victoria doing it so tough at the moment. I mean, world class studios, world class facilities, world class people down in Melbourne and in Victoria, who also have that capability to host these productions and provide that support. Just like in New South Wales or anywhere else around the country. And that's what we want to see happen. When you combine the $250 million we've already put into the entertainment sector with the $400 million we're putting in here, and the jobs that will come from that, we know we're investing in a strong and positive future. That's why we can lift our heads as Australians and know that we have a bright future ahead of us. And so we're very pleased to be part of bringing this not just to the Gold Coast, but all around the country today. And I want to invite Minister Cash to talk more about the job creation initiatives we're pursuing as a Government and how this fits into that broader JobMaker plan. Thanks Michaelia.